Custom Lanyards
Lanyards are perfect for trade shows, conventions, conferences and company functions. They are a simple and affordable way to increase exposure, reinforce brand image and boost security effortlessly.
Lanyard Details
Lanyards are multi-functional and may serve as an ID badge necklace or a key lanyard. Cool, personalized lanyards are achieved with sublimation allows for a full color design imprinted onto the lanyard. Sublimation allows PMS-color matching, offering unlimited color options and creativity. Imprinting your company logo, tagline or slogan sets the tone for your event.
We offer Polyester Lanyards (100% polyester)
Durable
One size fits all
Full color printing on the entire lanyard
Pricing – please call for more information
For a full list of lanyard attachments and accessories please see this Lanyard page.
Below are the common hooks or clips used with lanyards:
Metal bulldog
Metal J-hook
Metal lobster claw
Metal oval hook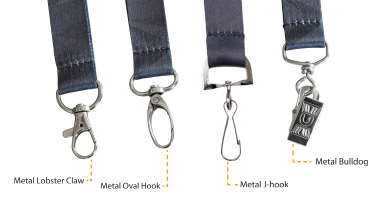 Other common options:
Flat plastic break away
Plastic buckle
Lanyard badge holder – ask the sales rep for more details
Individual Bagging
The below image contains the Flat plastic (safety) break away, Plastic buckle and a badge holder.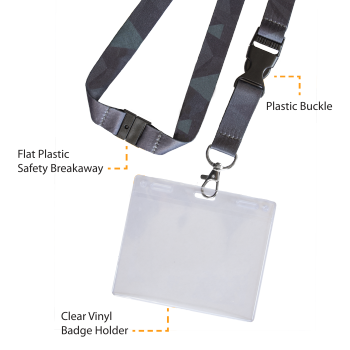 You can even create your own keychain lanyards so they don't always have to be used as neck lanyards. Keychain lanyards are a great way to make sure you don't lose your keys and are a great way to get your brand out into the world!
We also provide lanyard badge holders that allow you to attach your badge to the lanyard. We will make sure you choose badge holders that are appropriate for lanyards hook/clip.